Moving an office or a house is the hardest thing to do. You are going to agree with us on this because it's a fact. A lot of things to be packed and wrapped well in a queue.
Just because the list is too long for the moving day that if a single thing is overlooked it can turn the smooth going moving process more hassled and stressed.
People always want to feel stress-free whenever they think of moving their house or office from one location to another.
Moving is quite simple but tough to execute and especially not for someone who does not belong from the same field or doesn't have any experience of moving.
Whether it's your house or office removal, local or interstate move, the relocation process can be easy only if you have the right removalists service at the right cost that solves every problem related to your move.
Nowadays to make things related to moving and relocation simpler and easier, the best removalists companies in Melbourne are offering the budgeted Man with a Van moving service in Melbourne and throughout Australia.
A man with a van removal service in Melbourne is like a van or truck rental service for a specific period of time in which you will be provided with highly qualified and strong movers to remove and load your belongings into the moving van or truck and licensed driver to relocate your belongings safely.
In this piece of writing, Mover Melbourne will help you learn about the man and van services, their benefits and how they can help you when you move your belongings on short notice or on a low budget.
Understanding Man And Van Service In Melbourne – What It Moves?
Let's understand what is this man with a van service by dividing these two terms "man" and "van". It is the same tool for two different types of moving jobs or we can say it – one solution to moving anything and anywhere at the cheapest possible rates.
The expert mover(man) will help you to carry out your items from the current location and, second, reliable transportation(van) to move your items from your current location to a new location safely.
All this is called "man with a van" moving service in Melbourne. In this way, an expert and experienced team of professional movers help you to move your personal and professional items.
Now, let's move to something that tells you what type of items a man and van service move to help you in your all type relocation needs.
What Items Man With A Van Removes?
Complete office stuff and workstation ( Computer desks and chairs, paintings, magazine stands, telephones, conference table, coffee table, etc.)

Full household goods ( Television stands, sofa set, wardrobe, reading tables, lamp, washing machine, refrigerator, beds, etc.)

Man and van especially move heavy and delicate centrepieces like piano, pool table, art and antiques

Transport packed boxes, furniture, and can even relocate pets also

It can also transport vehicles like small cars, bicycles, motorcycle, bikes, etc
Note- Storage and packaging services are provided to you on your demand. Proper plastic and bubble wrap are some of the packaging tools we use to wrap up your items.
Our storage facility is large and safe, where your items are fully secured and under 24×7 surveillance. That means you may have to mention it on the form for quote generation. Otherwise, they remain excluded from the service package.
Reasons To Hire Man And Van Service
1. Easy Availability:
You don't need to worry about shifting your house or office items in the nick of time. Man with a Van Removal service is an easily available moving service.
Best removalists like Mover Melbourne offers 24*7 available for all types of removalists and cleaning jobs. You can hire a man and van service anytime when you require it.
Expert team of removalists are always ready to serve you no matter what the time is. At any time of the day, you can make contact and they will assist you with the in-depth information about the service.
2. No Stress Of Loading:
When you hire a man and van service then you don't have to take the stress of loading the valuable and heavy belongings of your house or office into the removal truck or van.
Well-trained removalists along with a van come to your place and load all your heavy and delicate furniture, equipment and electronics safely into the truck.
Professional moving companies like Mover Melbourne have all the required tools and moving equipment to make this tiring process of loading easy and damage-free. 
3. Hassle-Free Moving:
Professional team of a man and van do not work in a rush. They take the proper time to analyze the layout and texture, size, and weight of your place and items.
That is the reason they are slow at the time of analysing and quick at time 100% protection based moving. But that doesn't mean that they are not fast enough to make it on time.
People of Melbourne maximumly hire man and van removal service because they provide calculated planning and conduct a hassle-free process of moving and shifting home and office items.
4. Experienced Drivers:
With your item, your memories also take a ride to your new location. When you bookman and van service you will be provided with well qualified experienced drivers who have enough knowledge about all the routes and the vehicle they drive.
They are very attentive to their work, during your service procedure, they will properly communicate with you about everything related to the safe moving process.
They move all your goods in the fast and safest possible manner. When the man and van arrive at your new location, they will quickly unload and settle all your items as per your requirements and convenience.
Man With A Van – Transportation and Its Cost
The vehicle used in man with a van removal service is not some ordinary kind of means of moving your items. All the moving vans and trucks are highly equipped with hydraulic lifters and tools to make the loading process safe and effortless.
There are different types of panel vans, parcel vans, and city vans and moving trucks to take care of your removal process within and across the boundaries of the city.
Certified and top moving companies like Mover Melbourne have clean and well-maintained vehicles for man and van removal service.
These vans and trucks have sufficient space for your items for a short and long-distance both. A man with a van service is all set to take the service, easy to move through traffic and comes under your budget. 
There are lots of choices and availability of different sizes of trucks ranging from straight trucks and mid-size trucks that can lift heavy items like piano, sculpture etc.
Trucks and vans both maintained regularly and sanitized after every move. Man and van moving service is a whole package only for all kinds of removal.
It is a one-stop solution to meet the growing needs of customers, you will not have to make many calls for multiple services. 
Cost Of Man With A Van Removal Service
The money factor is not going to make you thin. Don't worry about that. Man with van services is the cheapest and reliable removalist service at your doorsteps.
There are various factors that go into determining the cost of man and van moving service. Among the factors generally taken into account are:
1. The Size Goods To Be Relocated:
It is the most common factor for determining the true cost of a man with a van removal service. As the number of goods increases, the cost of service can also increase.
2. The Type Of Items:
This is not a very common factor, but many moving companies consider what type of goods to move. If you are having more delicate and fragile goods, then the cost of moving service may increase because fragile goods require more safety and care while moving.
3. The Distance And Travel Time:
Travel time and distance between the new and old place is also one of the basic parameters of estimating the cost of moving. In general, words, the longer the distance, the higher the cost will be. So the cost of a man with a van service also depends upon the distance.
4. The Insurance Cover:
Insurance on your valuable items like a piano, antiques, electronics is very much necessary to protect their present value.
However, this is also a way of spending but it is also a very important factor to prevent your goods from being damaged.
If something terrible happens to your goods during the moving process then the insurance policy will cover all the damage.
The Conclusion
The house you live in, the office you work in, are the places you never want to get disarranged at a glance because of some unskilled people.
Office or house both need a professional touch in case of removing their items from one place to another. Man with a van powered by Mover Melbourne will promise to help you along the way.
Mover Melbourne understands your needs better and tries to solve it with our man with van service.
Trust and quality is everything. That's why we are the best in this domain. If you are planning to move then don't be late and have this amazing moving service experience from us.
Moving Melbourne surely is the solution for your removalists or relocation problem that you are looking for. All you need to do is generate a quote from our website by filling up the form correctly and enjoy the rest.
Know more information?
Just call on – 0370201341,

Or

Send us mail at – info@movermelbourne.com.au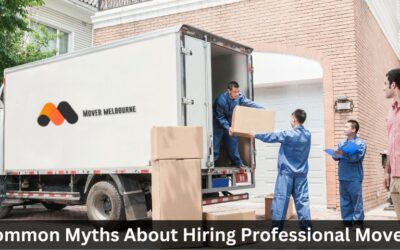 One of the biggest tasks that the majority of individuals will ever face is moving. To ensure that everything runs properly, a lot of preparation, work, and coordination are required. There are many common myths about hiring professional movers, which makes it seem...