Packing and moving goods from one place to another is the most difficult and tiring task during the relocation process. Some people try to do it by themselves and some hire professional removalists services to make their work easier and faster.
It's obvious, there is a lot of difference between moving on your own and hiring a professional moving company to move your belongings to a new place in Melbourne.
You might think you will save money, by not hiring a removal company. But probabilities are that you may end up hurting yourself or damaging your belongings and its surroundings.
This is not about moving a single item at one point, it is about moving yourself with your overall house or office at once. Therefore it requires expert handling and cares while packing and moving.
In this blog, you will understand the benefits of hiring trusted and professional removalists and the strong reasons behind hiring professional movers.
DIY move is also productive if you are moving one or small two items but can be very risky in case of moving your complete house or office belonging to another place.
With over 10 years of being in the moving services, Mover Melbourne offers a wide range of house and office removalists services that suit your necessities and moving budget plan.
We offer the best and certified movers for safe and secure house and office removal. Our removalists services can help you through any phase of moving and packing.
Professional Packing Vs Unprofessional Packing
In the event that you are moving on your own, you may be struggling to find suitable packing material for wrapping and packing your valuable goods. You would be sorting out the most ideal approach to handle and move, without harming or damaging anything.
Packing is one of the most difficult and lengthy tasks that need to be completed in a safe and satisfactory manner. If you do not have a good quality packing supply and you have poorly packed your goods, then it causes serious damage to your belongings during transit.
Professional movers can ensure your things remain in one piece from the start to the end and delivered without a single scratch. They use high-quality packaging material and assure that your goods won't get damaged due to vibrations and jerks.
Expert packers do not wrap everything with a single packing supply, they use different wraps and packing material to pack different kinds of goods. Professional packers give special attention to fragile and valuable goods.
This implies that you don't need to stress over belongings being harmed during the move. Professional removalists can ease up your move by providing you with the correct and unique packing materials in the event that you would do it by yourself.
Because certified removal companies in Australia have trained packers, working for years, and can help you at any stage of house or office relocation. Hiring a packing service also gives you time to use your stuff until the moving date, rather than living with the heap packed boxes for weeks.
Expert Handling Eliminates The Risk Of Injuries
It could be frustrating when you aren't able to move a heavy item even after trying hard to pack and move it. Lack of guidance, right skill or insufficient experience can lead to serious injury and damage. It is not about putting all the strength that you have during moving or loading your belongings.
And because we all know that moving house involves a lot of heavy lifting, it is not a good idea to do it on your own. It is about a combination of skill, power and experience.
When every individual knows where to put their hands and from where to lift and carry, then the task of moving heavy furniture and electronics appliances becomes easier and safer.
But with professional furniture removalists, you will be ensured that you don't have to lift a single finger to get your belongings packed, loaded, and moved to your destination place.
And it's very obvious, you don't get furniture moving dollies, sliders, all size trolly, moving straps or packing blankets easily available.
Expert moving companies have a team of professional packers and movers who are resourced with the right skills and the right machines, tools and equipment that are needed for hassle-free office or house removals.
Professional Removalists Lessen The Unexpected Problems
For a beginner who does not know how to move things, like moving a couch or piano getting stuck in the entryway – they could face hard luck.
Without the help of expert movers and certain moving apparatuses, you could wind up giving hours attempting to fix the circumstance – rather than sitting back and relaxing.
Many times people didn't get certified and licensed long-distance drivers for their rental truck, sometimes people forgot the border rules if they were moving to the interstate of Melbourne. These are many other issues and unexpected problems which you can face when you try DIY moving.
When you move on your own, you often have to face a lot of unexpected issues because you are not experienced doing so in the past.
Whereas professional movers have years of experience and have relocated 1000s of office, house, and furniture that is why they exactly know what problems come when you move a house or a commercial place.
The work under their hands will leave no loopholes and give you a satisfactory and joyful moving experience.
Professional Movers Saves Your Time
There is already a lot of work except for packing your stuff for the move. Shifting your house or office involves detailed planning and a checklist.
This involves:
Picking up clothes from laundry, making, return books to the library, return any rental stuff, etc
Informing your friends and colleagues about your moving date
Request your clinical, optical, and dental reports in advance if going through any treatment
Contacting legal authorities and applying for an adjustment in the address
Get your pet checked too and request its vet report. Add a couple of additional medicines and food for your pet in the event that you are moving interstate
Secure your legitimate and crucial documents, such as IDs, license, etc
Checking for admission in the school or college in a new location if you have kids, etc
When you move with professional removalists, you get time to efficiently complete activities as well which could create trouble after shifting or while shifting.
You can assure that you are not missing out on anything before moving. And can happily enjoy your house or office removal with no hassle and confusion.
End Of Line
Yes! Moving is one of the difficult jobs if you do it alone but with the right and trusted moving company it's a blissful journey towards new experiences and life. Mover Melbourne is also one of the best-reviewed and certified removal and storage companies in Melbourne, Australia.
Along with offering removals services, we make sure to provide you with a range of cleaning services as well. That makes the move easy and untiring for one. We provide our clients with move-in and move-out cleaning services, storage services. backloading services, etc.
Mover Melbourne is well-equipped with all the appropriate tools and machines needed to relocate a house or office conveniently.
We take all the responsibilities right from the beginning till the completion of the relocation process. Whatever services we will give, would be of high standards. We provide you with insurance coverage that will prevent you from any loss from future uncertainties and failures.
From packing and moving to unloading and unpacking in your new home, we do everything. Mover Melbourne provides you with the option of customization where you can add and subtract all the necessary and unnecessary things in your service.
It is also helpful in letting us know what you want from us and what not? We make sure we remain fair on our rates.
We do not have any obligations to give quotes on call. One can simply ask, what consists of additional charges on call. We do not charge any hidden fee from our customers.
How to Contact Us?
You can directly call on 0370201341 Or
Leave a mail at info@movermelboure.com.au
Our Customer support service is fast and efficient, they will give you a quick response and solve all your moving queries. HAPPY MOVING!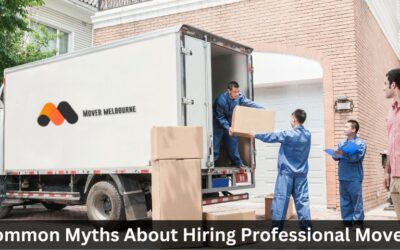 One of the biggest tasks that the majority of individuals will ever face is moving. To ensure that everything runs properly, a lot of preparation, work, and coordination are required. There are many common myths about hiring professional movers, which makes it seem...