One of the most crucial aspects to take into account while selecting a location to call home is accessibility. You should thoroughly research the quality of life in the place you are considering moving to before you do so to make sure you can live there comfortably.
The most financially sensible option first appears to be moving to a less expensive location. After all, the lower the cost of living, the less money you need and the more items you can afford.
However, pricey locations are pricey for a reason—they have a lot to offer, making them extremely desired and more costly to live in. The highest living cost places have the best career prospects, the highest-paid jobs, and the richest cultural scenes. So, despite how difficult it may be to accept, relocating to a more costly location might increase your wealth and happiness.
If you want to know how it is worthwhile to live in an expensive city, then? Read this blog till the end and find out how.
Advantages Of Moving To An Expensive City
1. Good Opportunity To Develop
The economy and business environments of expensive cities like Melbourne are thriving. The labor market is strong, there are many work opportunities, and jobs are widely accessible. There are several options for networking and sponsorship. Therefore, when residing in an expensive city, it is relatively simple to get a decent job, grow in your career, enhance your professional knowledge, and even launch your own business.
2. Get A Higher Wage
Economically successful cities have more businesses, which increases the demand for competent workers and raises pay. Therefore, despite the high cost of living and housing, people who live in costly cities frequently pay a lower proportion of their income for rent and can save more money than those who live in more cheap places.
3. Great Convenience
Expensive shopping malls, fancy restaurants, top-notch hospitals, and first-rate schools are just a few of the outstanding features and services offered in wealthy cities or states. You can obtain everything you desire or need. Additionally, you might typically locate it close. You can use the bus or train if not. There are, of course, some exceptions, but generally speaking, living in an expensive city means having access to reasonably priced and dependable public transportation. Being surrounded by so many businesses is not just convenient but also quite beneficial because having more options leads to better service and reduced prices.
4. Several Places For Fun And Pleasure
Most of the time, pricey cities have vibrant places with something for everyone. 
Restaurants, bars, nightclubs, and other places to eat, drink, and dance. 

Libraries, art galleries, museums, and other establishments of culture. 

Movie theatres, music venues, amusement parks, and other places for entertainment.

Sports facilities include tennis courts, ice rinks, and stadiums.

Interesting organizations and hobby clubs, green spaces, and parks. 
If you live in an affluent location, you'll be able to practice your favorite hobbies and pursue your passions, whatever they may be.
5. Luxury Living
Expensive cities are your best choice if you're looking for a comfortable and luxurious life. Even though your housing and lifestyle costs will be high, you'll have a tonne of options to live a dynamic lifestyle and become affluent.
How To Cut Costs When Relocating To A Pricey City?
Moving usually costs money, and relocating to an expensive city may also put a lot of stress on both your finances and your psyche. Nevertheless, it is quite feasible to move seamlessly and effectively while staying organized and spending a limited amount of money on your move.
Follow these tips to cut the cost of relocating to an expensive city or state:
1. Carefully Investigate The Local Real Estate Market
Look for a property to buy or rent in a more affordable part of the city, make sure the mortgage/rent of your new home won't exceed 30% of your income, and check on the included amenities, utility services, etc. And if you are moving alone, then consider living with a roommate to cut some costs on the rent of your apartment.
You may also learn more about the specific areas to live in your price range by using Google or the website of your local board of realtors. 
2. Create A Budget For Moving
Reduce the number of items you decided to move with yourself to reduce the cost of moving (moving costs are based on the time it takes to complete the job for local moves or the weight of the shipment for long-distance moves); the fewer items you must move, the lighter the load will be, and the quicker the movers can complete the job, the cheaper your move will be.
Find trustworthy, affordable movers by requesting free moving estimates from various professional moving companies, reading moving company reviews and ratings to understand what to anticipate from various movers, obtaining binding on-site estimates from three or more reasonably priced professionals, comparing the offers, and looking for the best balance between quality and price.
To receive a cheap moving quote, schedule your move on weekdays during the shoulder season (between October and April) when moving services are less in demand and lower prices. As you negotiate, request special discounts and offers to assist you in getting the best possible bargain. 
Avoid additional fees by packing your goods yourself (using free packing supplies and alternative packing materials you already own), getting your new house ready on time, and other such preparations; plan a moving day that is both efficient and safe.
3. Don't Spend Excessively After Relocation
Purchase exactly what you require, seek out budget-friendly retailers, avoid eating out frequently, take advantage of free events, utilize public transit, walk or bike wherever possible, etc. Try your best to resist the need to spend money and concentrate on saving until you get appropriately settled in your new place.
To Conclude
The most costly locations to live in are typically the finest places to further your profession, network, and enhance your social and financial situation. Moving to an expensive city or state helps you participate in different activities and exciting fun events. Also, doing just a few days of planning and hiring trusted removalists like Mover Melbourne for your relocation can save a lot of your money.
You can contact us anytime, and Mover Melbourne is here to solve your issues. You can contact us through mail or call us, whatever suits you.
We provide full-value moving insurance to ensure the peace of mind of our clients. For any kind of query and questions, you can freely contact our customer support service. We are 24*7 available.
If you have some enquiry then you call at 0370201341
or send us a mail at info@movermelbourne.com.au.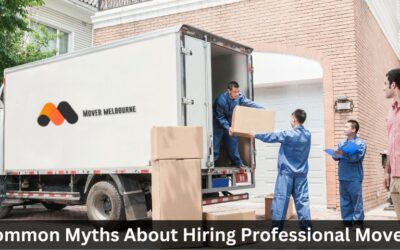 One of the biggest tasks that the majority of individuals will ever face is moving. To ensure that everything runs properly, a lot of preparation, work, and coordination are required. There are many common myths about hiring professional movers, which makes it seem...