Moving to a new office is a great way to extend your business and increase your reach over the targeted clients.
You may be eager to explore a new office location so that you can associate better with your clients and other business mates.
Whatever is the reason for the shifting, but no doubt an office relocation is a difficult process and demands a high level of planning and organizing skill-set to make sure everything goes smoothly without any damage and interruption in the running business.
The procedure for moving an office is a bit different and tough than moving a house or furniture. There are a number of fragile goods, delicate objects, equipment, and electronics that need to be packed and moved very carefully.
A single mistake while relocating an office can harm your business severely.
Therefore, almost every business owners and companies in Melbourne hire professional office removalists for shifting their complete office to a new place with no damage and issues.
We recommend you not to move your business or office location alone or without taking any help from expert office removalists. You can't even imagine how risky moving an office by yourself.
But if for any reason you are not able to book office removal services, then definitely read its blog, with this you will get some easy points and tips so that you can relocate your office without any trouble.
Tips To Move Your Office Successfully By Yourself
Office moving is not a single step procedure, it requires good technical knowledge of uninstallation and reinstallation of the workstation and PCs.
And when you do it by yourself, it is important to plan and consider each and everything properly. Here are some points to examine to reduce stress and make the office relocation process much easier and safer when you do it by yourself.
1. Plan The Office Relocation Early
It's never too early to start. Most business moving is planned months before the actual moving day. By giving early notice and planning for office removal allows them to have enough time to pack up their belongings and take home any personal item for safekeeping.
Short notice office removal causes stress and anxiety that leads to damage, delays and unsatisfactory office relocation. Therefore, Mover Melbourne suggests you create your moving plan with your employees.
2. Communicate With Co-Workers About The Office Removal
Moving can be stressful for everyone. Avoid diminishing confidence by updating your colleagues about the move as early as possible. Also, explain the aim of the move. Keep giving information to workers on the office relocation progress at every stage.
Therefore, it is beneficial for using multiple channels of communication for announcements to ensure that everyone is well-briefed.
Things can get worse easily without proper communication with colleagues. To avoid confusion, discuss everything with your co-workers and provide them with exact knowledge about your office moving plan.
3. Get Ready Your New Office Space
Part of the moving process needs checks to be carried out at the new building. Ensure anyone included within the office moving process is tuned in to any building access times and/or security needs. Learn whether there are restrictions on when relocation is being complete.
Some buildings may restrict moves during business hours. Before moving, you must make sure that everything is in working order within the new office space or not.
This prevents further delays to your business. Creating a concept for drawing up where everything should be placed, it'll make the unpacking process much easier.
4. Reduce Disruptions During Moving
Running an organization functions while relocating an office can prove difficult. You should move non-essential things first so as not to interrupt your operations.
Make sure your clients are well known about the office moving process, especially when phone lines or the internet may be down.
We suggest you provide an alternate emergency contact number to all your clients. If you hire the services of Mover Melbourne, we can work with your timetable, including any type of services.
This guarantees the least level of disruption to your business. We also provide 24*7 removals, which means no recession of business.
5. Load And Handle Heavy Furniture Carefully
Make sure that safety procedures are in place during the relocation at all locations. Anyone helping with the moving should also know the safe and secure way to bear heavy loads.
Let the physically fit people do this heavy lifting or you can hire a team of office for loading because they are well-experienced and trained in handling office removals of any size including bulky and heavy office furniture.
6. Hire The Organized And Professional Office Removalists
Professional office movers are reliable, skilled, and experienced and help you to complete our office removal as quickly as possible. Office moving experts have a well-defined set of procedures to make an easy way for moving office space locally, interstate or internationally.
Hiring removalists would be highly accepted with such a big move as an office move. They offer premium services from and to anywhere, putting your business first.
Reliable office moving companies understand that your business will have confidential information or data, own equipment and other assets and you need immediate continuity in the removal process and arrival at the new location without any further delays, disruptions or unnecessary issues. So, our office removalists in Melbourne help you to reduce office moving stress.
Why Choose Office Removalists For Moving An Office Space?
Certified and expert moving companies have some of the most experienced, skilled and professional office removalists. They have all the necessary resources to complete local and interstate office relocation on time with no damage.
Here are the following crucial causes behind why you should book an office removalists for the removal of your office:
Professional office movers give all types of packing, equipment & advice to make your relocation easy & smooth
We are fast, affordable and very professional at our job
Flexible working hours- they can move your office according to your convenience. A team of experts office removalists in Melbourne helps to move your office items on your chosen day
State-of-the-art moving & safe storage facilities
They offer expert move-in and move-out office cleaning services
Office moving experts acquire a detail-oriented and customer-focused approach
Use appropriate tools such as skates and dollies to assist in the removals
They keep the vehicles used in transportation in the best condition
They provide a devoted project manager and supervisor for every project
Office moving professionals are always ready to assist any of your relocations at any time 24×7
You can trust professional office removalists and they will move your business files, equipment, workstation and all necessary documents safely.
They will collect all the necessary docs and keep them in a safe place. And after the complete removal service, they quickly rearrange and reinstall everything carefully and your business will be ready to boom again!
The Bottom Line
No matter if you are relocating your office completely or you just need to move some items and office furniture in your different office location, Mover Melbourne is also one of the professional and top-rated office removalists in Australia.
We provide our removalists services in all areas of Melbourne. Whether you need removalists service for office furniture removals or any other purpose, Mover Melbourne is your only removalists company to offer you removals services at cost-effective prices.
So, from high-quality packing to unpacking service, loading to unloading service, we ensure that your office is moved with minimal disruption without affecting your business activities.
We have many years of experience in the industry and have been providing customer-oriented services ever since we entered the moving industry.
Hence, our Movers work with full dedication and never compromise with our premium service and quality.
To contact Mover Melbourne Click on the Contact Us Button.
Our contact details: Tel no: 0370201341,

Email ID: info@movermelboure.com.au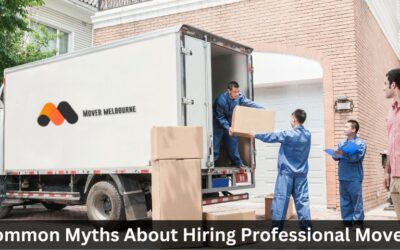 One of the biggest tasks that the majority of individuals will ever face is moving. To ensure that everything runs properly, a lot of preparation, work, and coordination are required. There are many common myths about hiring professional movers, which makes it seem...