A dirty workplace or home is the centre of unwanted germs and it can make your health miserable. And because of the covid-19 pandemic, we came to know the right value of the cleaned and sanitized environment.
We clean our houses and offices every day and we feel tired and stressed because of not knowing the right knowledge about professional cleaning.
It becomes worse when we have to do it before and after the house removals. As we have in our other blogs, shifting is one of the most stressful and hectic experiences in people's lives as it involves a huge amount of cleaning work besides furniture removals and packing jobs that require to be handled with perfection.
Before leaving your old house or office, you can not ignore the cleaning work of all the junk and wastes. Or else, it will not be easy for you to recover your security deposit if living on rent.
And moreover, it will be even challenging for you to sell out your property without proper cleaning. Likewise, before moving to your new house or office, make sure you have cleaned it properly to get it ready to relocate in.
However, if you want to keep your house or office clean and sanitized then professional cleaning services in Melbourne can provide you with an extra edge.
Expert movers and cleaners like Mover Melbourne provide you with professional move-in and move-out cleaning services, week/monthly house and commercial cleaning services and deep cleaning services in Melbourne.
If you are thinking of not opting for professional cleaning services or your moving budget doesn't allow you to hire expert cleaners, then don't worry at all.
Here in this blog, we have enlisted all the do's and don'ts for professionals like cleaning which is every certified and trusted removal and cleaning company in Melbourne. Let's get into this!
Don'ts For Professionals Like Cleaning
Before knowing what to do, it is good to know what not to do. Every day you do cleaning, dusting, mopping but some mistakes also happen in it, due to which we are not able to clean our house or office as perfectly as experts do.
These are some following tips or don'ts that you should follow while cleaning your space:
Do not spray pesticides inside and outside the house or office until there is no pest issue.
It is important to clean the mopping and dusting clothes and equipment. Don't use dusty and dirty cleaning equipment, it is unhygienic.
Do not use the floor cleaning liquids for cleaning your furniture and fragile goods.
Aggressively rubbing your furniture may damage or ruin its shine and polish.
Don't use detergent for cleaning your wooden or marble flooring.
Never mix ammonia with bleach. It is effective for cleaning but very harmful for health as it produces dangerous gas.
Direct spraying of the disinfectant or cleaner on electronics can cause harm to it. Use a tissue to wipe your electronics items.
Don't judge your cleanliness on the basis of presence and smell, sanitization is a must for killing all the germs, viruses and bacteria's.
Do's For Professionals Like Cleaning
After learning about the don'ts you must be eagerly waiting to know what exactly to do for deep house and office cleaning and sanitization.
Here is the list of do's that you must follow when are cleaning your home or commercial space:
Always buy organic cleaning and disinfecting products from the market. Because it is chemical-free and biodegradable which is good for the environment and our health also.
Start your cleaning from top to bottom that is, clean your wall frames, ventilating windows, chimney, ceiling fan or air conditioner, etc first.
Do sweeping and dusting properly before you dig yourself into cleaning liquids and mopping.
Use tissue or paper towels to clean small objects. You can use old cotton t-shirt cuttings also.
While cleaning, cover up your face so that the dust does not get inside your mouth and eyes.
Must wear hand gloves while mopping and cleaning kitchen crockery, washbasin, bathroom toilet and other items. It will protect your hand from scratches, rashes and germs.
Every time after a thorough cleaning, spray the sanitiser, it will eliminate germs and bacteria present in the air and corners of the goods.
If shifted to your new house or office, then clean up that space as soon as you reach it, this will make it easier for you to organize your belongings.
Clean and wipe all your furniture, arts and antiques before re-assembling.
While cleaning window glass, wipe it with a paper towel in the top to bottom manner, so that there will be no residue of cleaning products.
Make a schedule of every week deep cleaning. With this, you can keep your house clean and safe and it will also improve your cleaning habit.
With members of your family, if you keep your house neat & clean, it will decrease and reduce germs that can cause you and your family sick.
When your house is neat & clean it will keep you healthier and make you feel better overall as well. Even small touch-ups can help to decrease the build-up of germs that can happen in just a couple of days.
If you don't feel that you can handle all this cleaning process on your own then do ask for help from the professional cleaning companies in Melbourne.
After all, they are available 24*7 to help you with expert services. Read this completely and you will get to know why you need professional help to clean your house and office space thoroughly.
Why Need A Professional Cleaning Company?
There are various reasons for which people opt to hire professional cleaning services and a number of advantages as well.
Cleaning takes up a big part of time and energy – it really distresses you to indulge in such an exhaustive and time-consuming cleaning work then you can leave it on our professional cleaning services in Melbourne.
If you've been considering hiring a company for professional cleaning services, here are some reasons that might affect you to do so:
A Clean Home And Office Without Putting Any Effort
When you clean your own house and office it seems like a headache and burden. Therefore, one of the necessary benefits you will receive is that your home or office will be clean, which is something that your whole family and co-workers deserve.
All of us lead very hectic or stressful lives these days, as we try to get everything done. Hiring professional cleaners will help you to give peace of mind. Knowing that you don't have to do this task and it will be one less thing that you don't have to worry about. After working hard all day, you can simply come home or just relax.
Professional Cleaning Service Can Save Your Time
This is the main reason why you might want to pay a professional to clean your house for you. It will increase your time so that you can do other important work.
In place of spending several hours each week cleaning your house and especially your large office space, you can otherwise spend this time on things you have postponed to do.
Maybe, you don't have something specific that needs to be done, but cleaning is still not something you want to do. In the end, you will have time to rest and relax.
Expert Cleaning Knowledge And Experience
It is possible that you think you know your house better than professional cleaners. That might be true, however, there are items in your house that you most likely have a tendency to overlook since those are areas you don't like cleaning or don't know how to clean difficult areas, such as your ceiling fans. Those areas that are hard to reach have a tendency to forget and over time more dirt and dust will build up.
A professional will ensure that everything is neat & clean that you need. They have several years of experience in cleaning jobs and they know the best ways and tricks to clean every corner of your home and commercial space without dismissing the shine of any object.
System Of Professional Cleaning
Maybe, you start in your kitchen and then clean your house since you think that works. However, you may be doubling or tripling your work. A professional team will have a system when they show up at your house along with a checklist of things. They can work more efficiently and effectively, to get the job done in much less time.
Use Good Quality Organic Cleaners and Disinfectants
A cleaning company with a good reputation in the market always uses the right and best quality cleaning products. Because they know to take full care of the environment and people's health.
Professional cleaning companies like Mover Melbourne use organic cleaning products, it costs a bit higher than chemical products but not harmful for the health. Organic cleaners do not affect the polish of your furniture and flooring and effectively clean them.
Standard Checklists Of Cleaning Companies in Melbourne
Safe and reliable moving and cleaning companies like Mover Melbourne, offer customized and flexible, move-in and move-out, end of the lease, daily, weekly, and monthly house and office cleaning services in Melbourne.
And make sure an easy transition to your new house or office. It doesn't matter whether you need full-cleaning service or just need to clean certain items, they can do all the jobs at par to your satisfaction.
Following is the standard checklists of cleaning services:
Complete dusting
Cabinet cleaning
Cleaning of kitchen appliances
Sinks and countertops cleaning
Vacuum cleaning and sweeping all the floors
Shower and bathtub cleaning and scrubbing
Baseboard Cleaning
Toilets cleaning and scrubbing
Spraying disinfecting if needed and complete sanitization after cleaning
Conclusion
After getting complete information about professional cleaning, it is now up to you what you opt to clean your home or office. If you're thinking of choosing professional cleaners, then Mover Melbourne is also one of the best cleaning services providers in Melbourne.
We are specializing in all-natural products and providing our customer's one-stop solutions to a clean, safe, and eco-friendly home and office. Our all-natural proprietary blend of cleaning formulas is the guarantee to effectively and efficiently clean household surfaces and flooring. Without leaving the smell and toxic presence of chemicals.
When customers choose Mover Melbourne's Cleaning Services, our knowledgeable team of expert cleaners will do all the work and permit the customer to enjoy the added assistance of time, convenience, and worry-free service.
Mover Melbourne's cleaners have the specialized experience, dedication, and innovative product to transform the standard of cleanliness of any commercial place and residence. With Mover Melbourne you will definitely say "It was Happy Cleaning".
To contact us, you can call at 0370201341
or send us a mail at info@movermelbourne.com.au.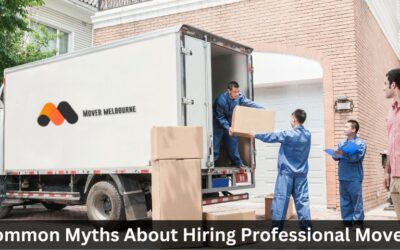 One of the biggest tasks that the majority of individuals will ever face is moving. To ensure that everything runs properly, a lot of preparation, work, and coordination are required. There are many common myths about hiring professional movers, which makes it seem...