When relocating your household goods, careful planning is required. Suppose you carry them without taking additional measures. In that case, you can wind up losing your treasured things, especially when you are moving your heavy furniture and other belongings upstairs or downstairs without any professional assistance or tool. 
Every detail needs to be taken care of, especially the stairs. When you move heavy objects, stairs might sustain significant harm. Also, making the wrong choice can result in severe physical injuries, shattered valuables, and damaged staircases and flooring. 
Moving your items over a stair is the riskiest way of the move in case your legs slip; it will hurt you and damage the items and the stairs. So, taking precautions when moving over the stairs is the best way to move safely. Precautions not only help to protect the stairs but also saves you from hurting yourself. Contact the best Melbourne Removalists to transport your heavy items in an easy way.
The amazing stair protection techniques and methods listed here help prevent accidents and injuries while your stairs during the relocation moving.
1. Apply Rugs And Blankets
To keep your stairs protected when transporting heavy items during a house move from dents and scrapes, you can apply rugs and old blankets that won't slip. You can look for worn-out, cushioned, soft coverings and don't have to worry if they become soiled.
Put those rugs and blankets over each step, and then tape them down using painter's tape. This will prevent the blankest from clumping together and prevent it from any damage.
2. Use Of Carpet Runners
A long, rectangular area rug known as a carpet runner is frequently placed in front of doors or other high-traffic areas. These carpet runners are typically used to mark entryways and safeguard hardwood floors and stairs. To defend against various things, runners can also be put on steps.
You may install floor runners if you wish to safeguard your steps while moving household items, whether they are wooden or carpeted. They will protect your stairs from pointless dings, scratches, and other blemishes. The best feature is that they may be utilized right on the surface and are simple to install. Therefore, use good quality carpet runners and install them to safeguard your stairs.
3. Apply Carpet Masks
Use a carpet mask without hesitation to guard your carpeted stairs against damage while you're moving your furniture up or down there. Purchasing a self-adhesive plastic mask that can provide an additional layer of protection and provide coverage against damage is a smart idea. When necessary, you can also shield the carpet with a plastic film sheet.
You can also use painter's tape for protecting carpeted stairs; painter's tape works well in place of carpet masks and protectors.
4. Give Your Full Concentration During The Move
Putting your full concentration on the move helps you to make a move safely in the right way. Moving over stairs is a risky task and can damage the stairs, but it can be made easier if you put in your concentration and dedication when moving stairs.
If you put your full focus during the move, you will neither put your foot in the wrong place nor will you slip your leg and fall. So, either focus on your move to avoid these kinds of drawbacks and make your move the best one.
5. Make Use You Use A Rubber-Wheel Dolly
If you need to carry something large or heavy up or down stairs, you can use rubber-wheel dollies. Both property damage and personal injury will be avoided with the help of this tool. Use a high-quality moving dolly with rubber wheels, and enlist the help of a friend or your spouse to help you out. A rubber wheel dolly allows you to easily move heavy goods while navigating stairs. 
Even you can use a hand truck that will move up and down the stairs by rolling against the side of the staircase with its Tri-Star wheels. But conventional hand trucks demand more effort. You'll have to lift them and move them gently up and down the steps.
A rubber wheel dolly that can climb stairs can even shield goods from harm. In contrast, it could be difficult to keep the weight stable when climbing stairs with a conventional hand truck. Additionally, if the weight is unstable, it might slide off the hand truck and cause harm. So getting a good quality rubber-wheel dolly will help you move the goods easily without harming the floors and staircases.
Why Should Stairs Be Protected When Moving?
Careful planning is necessary while moving your household possessions. Taking precautions prevents you from harming yourself as well as helping to safeguard the stairs. The likelihood that you may drag or pull bulky furniture and boxes and leave lasting dents and scratches on the stairs is considered. So, you should take additional precautions for both carpeted and wooden staircases while moving out of the old home or into a new residence. 
Conclusion
Moving heavy items yourself down or up the stairs needs extra care and the right equipment. Using the incredible stair safety tactics and procedures described above in the article helps you protect your stairs while moving heavy furniture items and other belongings. 
You can also hire trusted furniture removalists services of Mover Melbourne to safeguard your priceless possessions throughout the relocation. We will bring all the necessary moving tools and supplies and move your belongings safely without damaging anything in their surroundings.
If you have some enquiry then you call at 0370201341

Or send us a mail at info@movermelbourne.com.au.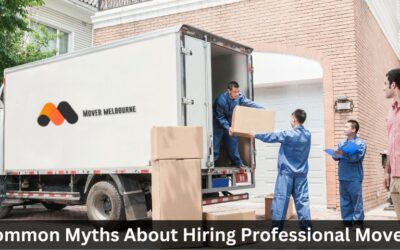 One of the biggest tasks that the majority of individuals will ever face is moving. To ensure that everything runs properly, a lot of preparation, work, and coordination are required. There are many common myths about hiring professional movers, which makes it seem...