You're eager to settle into your new house. To make your home as move-in ready as possible, you've done everything from replacing old carpet to cleaning kitchen cabinets and tiling. Even the walls were professionally painted, so the interior appears like new.
Although you've made your new house ready for your family to eventually move in, have you taken any security measures for the actual move? Large foot traffic, hefty furniture, and heavy boxes can all combine to cause damage. Boxes piled carelessly risk scratching your freshly painted walls. A chair moved clumsily might cause damage or crack to your wall. Additionally, you can see new marks and chipped edges when visitors rub elbows in confined passageways.
Fortunately, by taking the following steps, you may reduce damage to your walls.
1. Make use of plastic wrap while moving your furniture
Are you getting ready to move out of your house? The plastic wrap will become your new closest friend. This simple, sticky wrap is one of the essential packing supplies to have on hand while prepping your belongings for a move. Packing and wrapping bulky items like rugs and furniture with plastic wrap not only minimize damage to your furniture, artwork, and other items during transit but will also enable you to pack more compactly and protect your walls from scratches and damage while unloading and reassembling.
Moreover, cover any goods with rough edges or sharp corners with soft blankets or towels, or wrap them in protective plastic wrap. If there are any moving parts, such as dresser drawers or armour doors, fasten them with bungee cords or child-safe locks. This way, you can protect your goods and walls from getting scratched.
2. Protect Wall Corners With Cushions
During a move, wall corners may sustain the majority of the damage. You could find your furniture pressed up against a corner and a wall when you cram long sofas and towering dressers around the curve. If you're fortunate, moving your larger pieces won't need much work. But if you're not, your furniture or the corner of your wall (or both) can give way beneath the pressure and get chipped off.
Consider padding your wall corners with a corner protector to keep them looking brand new. Corner guards blend naturally with the rest of your house while offering the best impact resistance during the move. If you can't get the corner paddings, you can also use bubble wrap or cardboard and fasten them with painter's tape for the protection of your walls and house belongings. Painter's tape has exactly the right amount of adhesive to hold these protective coverings in place and will easily peel off your walls after you're done.
3. Hang Sheets In Hallways
Some people have narrow hallways that make moving large pieces of furniture like a bed or a dining table difficult. As a result, moving heavy furniture through these hallways causes damage to the walls and even creates difficulty in reassembling the items properly.
So, just like you did to secure your wall corners, you'll need to protect your narrow, congested pathways. In contrast to corners, you could prefer a cushion or bubbles since it provides far more protection than a corner guard or a piece of cardboard.
Also, you can hang thick towels, thick blankets, and sheets to protect the walls of your busiest house areas like hallways and corridors. If you don't mind a few tiny holes, you can attempt a few thumbtacks and push pins to hold the weight instead of securing them with a lot of painter's tape.
4. Remember To Choose A Reputable Furniture Moving Company
The previous tips can keep your walls appearing brand-new while you're moving. But bear in mind that if you're loading and unloading the truck with an unskilled team of family, friends, and furniture removalists, these suggestions might not be of much use to you. Despite best efforts, not everyone is physically capable of handling big boxes or large pieces of furniture with care. 
So, always look to employ a specialized furniture moving company like Mover Melbourne if you want to keep the condition of your property and your possessions safe. 
Professional moving companies have all such solutions to make your priced item safe without damaging the interior or exterior of your home. Your moving company can make your relocation as easy as possible while safeguarding your walls from harm if the proper tools and equipment are available.
To Conclude
The above tips are crucial if you are moving into a new home or in an apartment where you have to shift items from one floor to another. By following these tips, you not only protect your furniture or other goods but also safeguard the painted walls from scratches and damage. 
Also, if you want to move freely, you can hire a professional furniture or house-moving company like Mover Melbourne. We are trained and experienced furniture removalists in Melbourne who can move different-sized goods without any damage. We will take all the precautions and care and make walls protected until you get settled in your new place. 
So, call us today and make us a part of your move. 
If you have some enquiry then you call at 0370201341
or send us a mail at info@movermelbourne.com.au.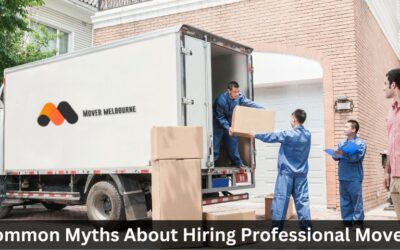 One of the biggest tasks that the majority of individuals will ever face is moving. To ensure that everything runs properly, a lot of preparation, work, and coordination are required. There are many common myths about hiring professional movers, which makes it seem...