The novel coronavirus has put a big stop to all the economic as well as individual activities. We all have been asked to stay inside our homes.
We all are facing difficulties on the fronts of our professional lives but there are a few things that can not be avoided, like shifting or moving your house.
Moving can not always wait, and if it's urgent and unavoidable, you better seek guidance on how you and your family can safely move during this pandemic.
Of course, we have to deal with it, if there isn't any other option but one thing we can surely do is, to follow the guidelines and social distancing norms to avoid the risk of getting infected during the process.
In Australia, a lot of interstate borders have been still shut down seeing the risk of the spread of the coronavirus.
However, the government has exempted the logistics and transport department due to which a number of moving companies are started operating under the prescribed safety guidelines.
And we are glad to inform, that the removalists in Melbourne are subsequently following all safety measures and guidelines and simultaneously moving the number of households and commercial places local and interstate.
This blog is dedicated to the essential tips and requirements for safe and smooth moving during this covid-19 pandemic.
Here you find two safe ways to move – one by yourself and another by a professional moving company.
If you are planning to move your house or anything, then must read this completely and follow these given tips to remain safe and uninfected in-between and after the removal process.
Covid-19 Safety Tips – Moving By Yourself
This covid-19 pandemic has ruined many lives, the economy of many countries, the financial level of thousands of families and observing all this, we just want to say that don't move until and unless it is very important. Being a moving company we are saying this because life is precious.
Now, If your house or office relocation is urgent and you are going through a low moving budget or financial crisis, then by yourself is a quite better option.
But you need to take care of some important things before moving. As DIY moves are already very difficult and risky, and with Coronavirus it becomes a more stressful and difficult task. Here are some important things that you should follow:
Use only fresh packing supplies, avoid borrowing
Have extra pairs of masks, hand gloves, face shield, and a few hand sanitisers
Do all the necessary shopping in one go
Wear a personal protective surgical suit/PPE kit whenever you go out
Make sure to frequently clean your house
Carefully pack all necessary food items, water and first aid kit
Safely collect your security deposit
When you reach, clean the whole house with disinfectant
If moving interstate, then don't forget to take border-crossing permission
Take an appointment for covid vaccine and get vaccinated before moving
Why Use New Packaging Material?
It's always beneficial to pick up the old recycled cardboard boxes wherever possible. But seeing the risk of coronavirus, it's advised not to borrow the old boxes.
No doubt that by doing this, you will save a little money but you will endanger yourself and your family's life. Now is not the right time for that. Coronavirus can stay on the board for as long as 24 hours, and you cannot be risking your life for a little money.
So go straight up to the market and purchase some fresh new packing boxes and wrapping sheets to protect your valuable belongings, yourself and your family too.
Before packing spray sanitiser on packing supplies and your items that you will pack. Make sure to pack all your household or office goods at least 2-3 days before your moving date.
Clean Before And After Moving Thoroughly
Now everyone knows that cleanliness is very important for safe and healthy living. When you move from your old place then you must clean that area also to get your security deposit and to make that place nicer for the other person also. After getting relocated, one should not deem as you have reached safely.
That's not enough, clean your house thoroughly after relocation. You have to completely clean your new place. We would suggest you open your belongings at one corner of your house or office and clean and sanitize them as you place them.
Disinfect the new place thoroughly if someone has moved out of the place before you moved in. Clean each and every item, sanitize it and disinfect it only then organize your stuff.
Make sure you are following the guidelines devotedly. There should not be a single second where you take it lightly. After a thorough cleaning of each and every corner, dispose of all masks, PPE kits and unpacking waste, take a bath and wash your clothes with an antibacterial liquid.
Safe and Quick Moving With Professional Removalists
Professional movers are allowed to work during this pandemic, it's good news because the way they can move and relocate your goods, you can't.
All the top moving companies like Mover Melbourne have certified, well-trained and most important vaccinated removalists to fulfil their clients moving requirements in the safest possible manner.
So, if you have decided to move your house or apartment into this pandemic, then choosing a certified moving company like Mover Melbourne will be a wise decision for a quick and safe moving experience. When you hire any moving company then follow these given tips.
Ask Everything From Your Movers
To be on the same page with your removalists in Melbourne, a thorough discussion prior to the move is important. Ask and clear your doubts regarding the safety steps taken by your house removalists in Melbourne.
You can ask for online quotes and pre-move surveys through video calls also. This is a vital step because this will help you to find a mover from the many options available.
Check their safety measures and some serious protocols to protect their removalists and clients during the move. Make a checklist and ask about these factors for safe moving with removalists company:
Following social distancing norms
Frequent use of hand sanitiser
Using personal protection gear like masks, face shield, PPE kit and hand gloves
Providing on-screen, or virtual quotes to our clients
Time to time screening of all our moving team members
Discussing and planning through phone calls or video calls only
Limiting the number of movers per move
Keeping trucks and vans stocked with sanitisers and protection gears
Disinfecting the tools and equipment regularly
Using fresh packaging supplies for each move
All movers should be vaccinated
Hire Deep Cleaning Services
To mitigate the risk, it's important to hire professional cleaning services. You can ask for these from your removal company, the best moving companies like Mover Melbourne provide everything related to moving, warehousing and cleaning.
Tell your moving manager to provide you with a deep cleaning service before and after relocation to reduce the risk of the virus at the new place. Try to do it before organizing the new house.
After unpacking, the professional cleaning team will clean and sanitize your goods and then place them in the desired place. You should also be prepared with extra hygienic products.
Even if you know that your removalists in Melbourne are coming with personal protection gears, still add up a few extra hygienic products to your preparation. Provide a hand sanitiser at the doorstep and make sure that all of them are frequently using it while doing their job.
Professional Movers Always Have Back-Up Plan
When moving with removalists in Melbourne, you should definitely have a backup plan, which is a storage house. A storage house, if booked in advance, then it can save you from any uncertain policy changes when you are travelling long- distances.
Many of the borders of different states have been closed, and no one can actually tell how long it will take for everything to get normal again. So it's always better to have a backup for long moves.
If for any reason your belongings get stuck, you should have convenient access to a nearby storage house where you can store your belongings until the situation gets better.
Note – Cancel Your Move On Time
If you want to cancel your move, make sure to cancel it on time because there is a time limit given on terms and conditions of all professional moving companies in Melbourne, which sets a deadline prior to which you can cancel your move without any loss.
At any time if you feel like cancelling or you do not feel well, we would suggest that you don't delay and take the step as soon as possible. Hire only a moving company that gives a certain guideline specifying this particular section.
Bottom Line
Either you relocate your house or office by yourself or by hiring professional movers, the most important thing should always be safety. Even if you have limited the number of movers to help you move, do not take social distancing lightly.
Keep a distance of 6 meters, with anyone who comes to your house. Social distancing and sanitizing need to be upheld throughout the process, until you get unpacked and relocated completely.
Make sure you follow these tips dedicatedly, and for any query related to removals and cleaning services in Melbourne, you can Mover Melbourne anytime. We are still operating and following the safety guidelines sincerely.
Call on – 0370201341 OR

Send Email to – info@movermelbourne.com.au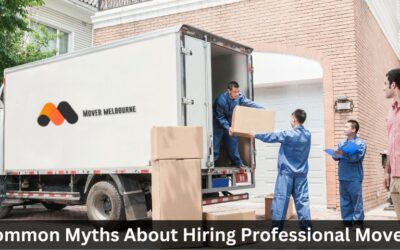 One of the biggest tasks that the majority of individuals will ever face is moving. To ensure that everything runs properly, a lot of preparation, work, and coordination are required. There are many common myths about hiring professional movers, which makes it seem...